The location of the property defines its value. If a property is located in a city, its value will be high, or if a property is located in far-flung areas, then its value will be nothing in comparison to the prior one. When it comes to the location of Town One, undoubtedly, it is pivotal. It is located near Bahria Enclave. Naval Farmhouse is also 5-minute away from it. Islamabad and Rawalpindi are easily accessible from society in a matter of minutes.
Town One Accessibilities:
You can access Town One in the following ways:
Bahria Enclave is about a 2-minute drive away.
Park View City is about a 5-minutes drive away.
Nawal Farm House is about a 5-minutes drive away
Blue Area is about a 15-minutes drive away
Town One is surrounded by a number of Places:
● Bahria Enclave
● Park View City
● Nawal Farm House
A group of highly skilled professionals with years of expertise created the Master Plan for Town One. The group consists of experienced town planners, architects, and engineers. The total expected land area of Town One is 2500 Kanals.
Available plot sizes in Town One:
3.5 Marla 

5 Marla 

7 Marla
Town One Installment Plan: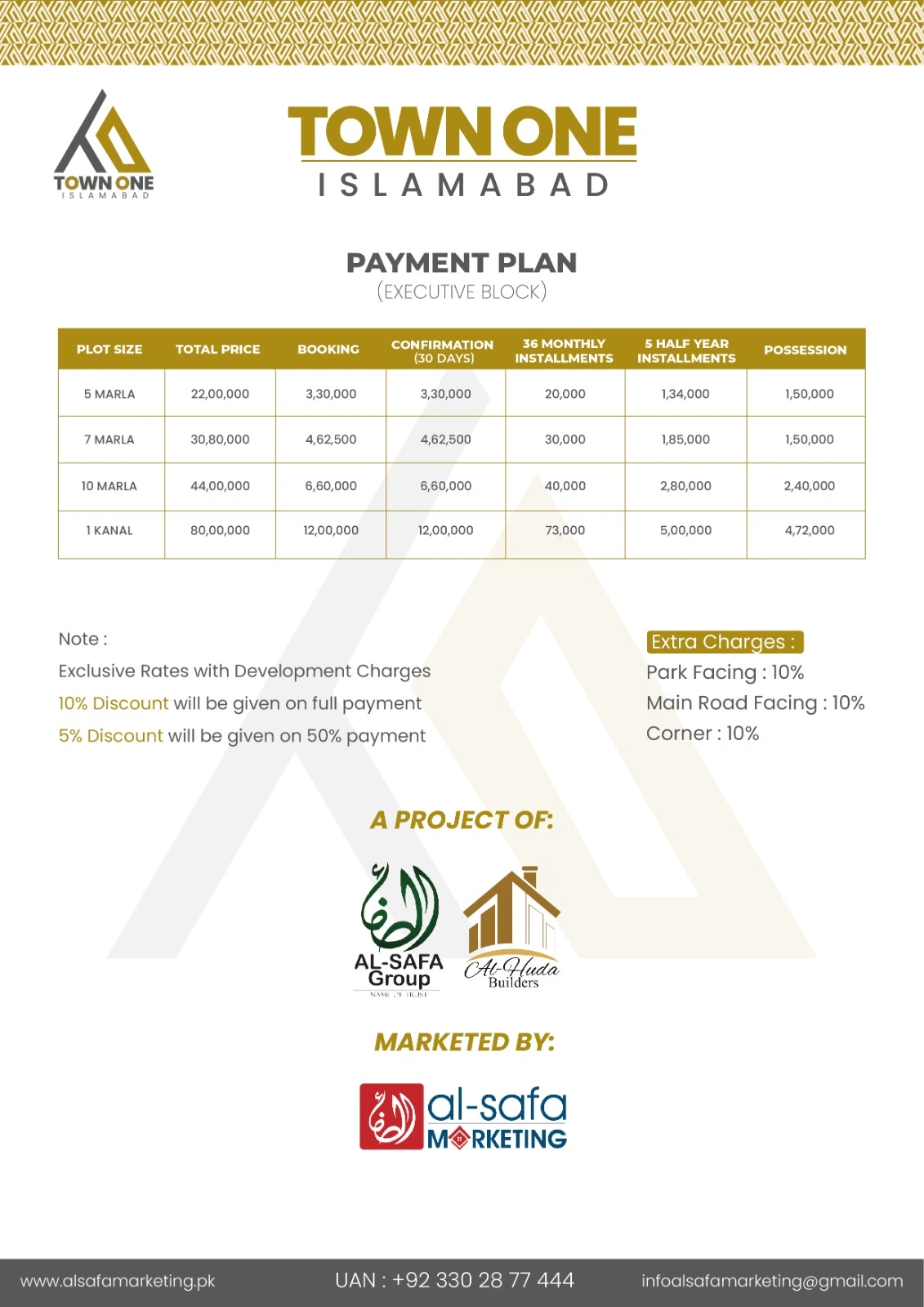 In the time of high inflation, buying a plot in any housing society is an herculean task but Town One is making it easy by providing an easy installment payment plan. The price of 3.5 Marla, 5 Marla and & 7 Marla is only 2100000, 3000000 and 4200000, respectively.
The installment plan consists of 42 months. 15000 per month for 3 Marla plots, 20000 per month for 5 Marla plots, and 35000 per month for 7 Marla Plots.
.
Town ONe Future Developments:
The development of Town One is astounding. The area which is developed is worth seeing as it is developed by skilled professionals. And the rest of the area is still under development.
Future development of Town One includes:
Beautiful Parks
Link Roads
Mosques
Beauty Salons and Spa
Gymnasium
Town One Allotment Certificate:
To get the latest Town One Allotment Announcement information, we advise you to stay connected with us. The Town One management occasionally grants allotment certificates for residential and commercial plots.
.
Possession Allotment for Town One:
Town One has announced policies for possession allotment of plots in Town One and these policies are shared with our respected customers with complete awareness..
Town One Transfer Procedure:
Real estate can be transferred by executing a deed. The sellers must sign a deed, which is a legal document that details the property being sold. The following steps are followed for the transfer procedure.